THE ANATOMY OF OCD : DIAGNOSING AND ERP TREATMENT
March 03,2023 8:30am-3:30pm CST Live Webinar
6 CE Hours
Obsessive Compulsive Disorder is a biological disorder characterized by obsessions followed by internal or external compulsions with the purpose of neutralizing distress. The gold standard for treating OCD is Exposure and Response Prevention (ERP). ERP is a behavioral approach consisting of exposing oneself to their anxiety while abstaining from engaging in their compulsive behaviors both internally and externally. This is done through the creation of an exposure hierarchy which in turn promotes inhibitory learning. Clients then build tolerance for their distress, and create new learning that counters or inhibits their OCD learning.
This presentation will identify symptoms and types of Obsessive Compulsive Disorder (OCD), and differential diagnosis to be aware of when diagnosing and treating. By the end of the event participants will be able to describe and implement ERP) with Inhibitory Learning Model themes to incorporate into the ERP process. Participants will also learn Treatment Interfering Behaviors and Building Motivation to further facilitate this process. Safety Issues when using ERP will also be addressed. This will provide a comprehensive approach to facilitate this therapeutic process.
KD Holmes, MS, LPC, EMDR Certified is a practicing therapist over the past 15 years. She has worked extensively with Generalized Anxiety Disorder, Social Phobia, Specific Phobias, Obsessive Compulsive Disorder, and Post Traumatic Stress Disorder. She is Eye Movement Desensitization and Reprocessing Certified, and BTTI trained for treatment of OCD. . She has experience in working with children, teens, and adults in Lafayette, La. She is passionate about providing training for OCD due to the shortage of therapists trained in Exposure Response Prevention treatment. She and her staff believe that practicing evidence-based approaches is essential to treating our clients and providing the best quality of care, which leads to the best outcomes.
KD Holmes enjoys using behavioral approaches to treating mental health issues. She loves DBT, RODBT, and ERP because they address mental health treatment through tangible behavioral steps. These approaches allow for learning in sessions, and coaching between sessions to encourage change, self esteem building, and gradual exposure to anxiety triggers without neutralization. Behavioral approaches provide a solid foundation for mental health treatment, followed by, trauma processing when applicable. Trauma work can be done through EMDR, IMTT, and Deep Brain Reorienting to help treat trauma responses that may be contributing to the presenting problems.
The wisdom of other practitioner's experience, collected data, and developed protocols provides the best outcomes for our clients and for the development of our profession.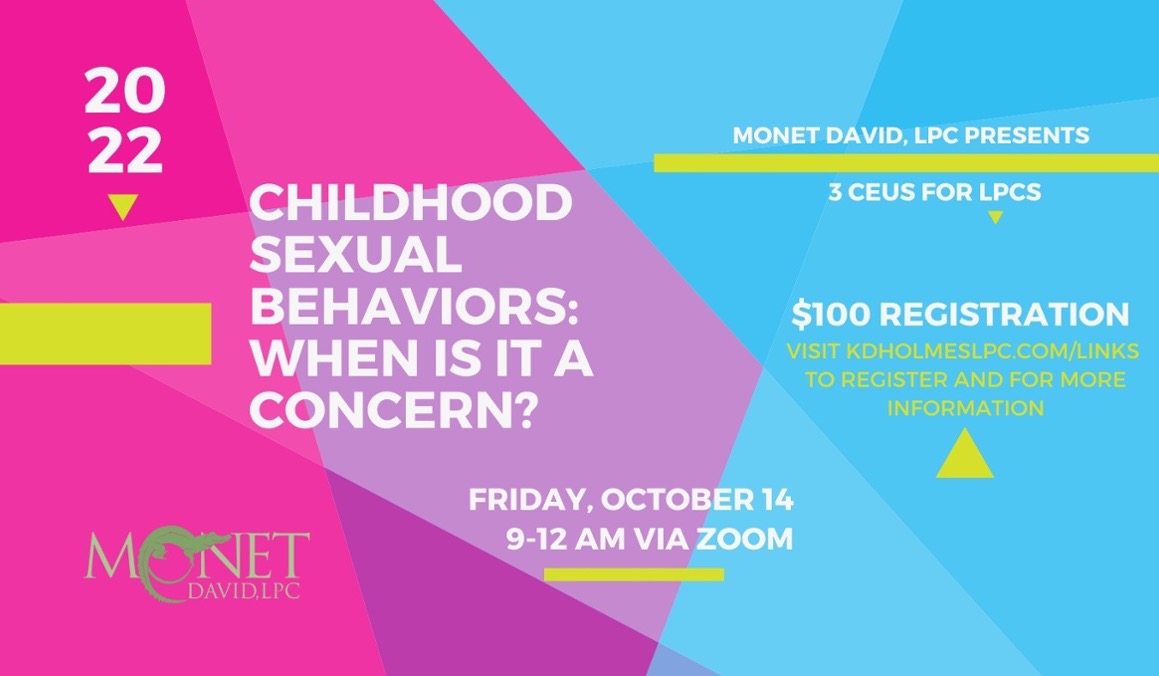 This presentation focuses on the sexual development of children and adolescents and seeks to educate participants on healthy versus unhealthy sexual expression within these age ranges. Consideration for growth and development are addressed within the presentation as a context for behaviors. Multicultural considerations are also considered in this presentation with an emphasis on how clinicians can support their clients of color.
As mental health providers who work with children and adolescents it is imperative that we understand the nuanced development of sexual behaviors from birth to adulthood. This presentation seeks to educate therapists on healthy versus unhealthy sexual behaviors in children through exploration of the history of the concept of "childhood innocence" as well as considering the impacts of family influence, cultural influence, and multicultural considerations for children. Therapists will discuss appropriate ways to address these concerns as well as how to empower the families they serve.
Monet David is a Licensed Professional Counselor who works in private practice serving clients aged 13 years and up. She has completed 170 hours of continuing education in sex education. She is a 2016 graduate of the ULL Counselor Education program. She has experience serving the community by providing in-home family counseling, as well as working with chronic mentally ill adults in an outpatient setting and most recently provided clinical assessments for children receiving mental health services. Monet also serves on the Pride Acadiana planning committee and is a founding member of the Acadiana Queer Collective.