KD HOLMES, MS, LPC
SIXTEEN YEARS EXPERIENCE
KD has been a therapist for 15 wonderful years. Yes, she said wonderful. She loves what she does and feel blessed that she found a profession that comes so naturally. She is known for being energetic, (in her personal life), and has been told that she is a lot-- especially when riding her bike and talking the entire time. She is also kind, patient, straightforward, and a natural problem solver. Her brain loves puzzles. She actually does a puzzle every couple of months and the minute she is done, she takes it apart and puts it away… lol. She loves the process of doing the puzzle. So in that same fashion, figuring out individuals' patterns, trauma history, and what will work for them intrigues her. She also thoroughly enjoys a good and meaningful conversation. She had a friend call her a raging extrovert, which was said perfectly, because it allows her to enjoy several days in a row of "talking and listening".
Her undergraduate degree is in Anthropology, this foundation informs how she engages in therapy. There are one thousand ways to do one thing. Each culture develops its own way, just like each individual has their own unique way. She honors this when assisting her clients in skills development and choosing what therapeutic processes will help.
She is rooted in the principle that I am human too. Therapists struggle with life events and "problems." This is the human condition and none of us are exempt . The minute any human thinks they have it all figured out and possess an all-knowing mindset is the same minute they are no longer good at helping others. Staying close to the pulse of humanity requires her to remain present with her my own struggles. She calls this being human.
Ultimately, therapy is an art form of being human, practicing patience, providing education, and of course being persistent to stay the course and help you move through your most stubborn barriers… ironically, this will be parts of yourself. The end goal is finding how YOU can work your way through it. KD would like to invite you to therapy in her office, (where there will be two chairs, not a couch), just two people working it out. Of course one of those two people will be a well-educated listener, guide, and coach.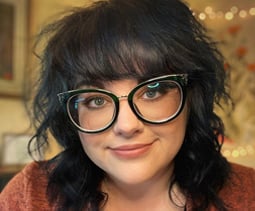 MONET DAVID, MS, LPC
FIVE YEARS EXPERIENCE
Monet (she/hers) is a Licensed Professional Counselor. She earned her bachelor's degree from the University of Louisiana at Lafayette studying Sociology and minoring in English literature. She became interested in becoming a counselor after enrolling in a Marriage and Family Sociology course where she learned about the ways in which different cultures define those terms.
She enjoys helping people and listening to how people see the world and their role in it. She received my master's degree from UL-Lafayette in Counselor Education. At first, she considered becoming a school counselor and even interned at her old high school for a year and a half but immediately upon graduating she found herself providing community-based counseling services to families at a local counseling agency. She has experience also working with chronically mentally ill adults and has spent the last several years providing clinical assessments to children and families.
Monet is funny, warm, and honest. When she's not helping others, she enjoys playing with her three cats, Luna Luci and Zelda as well as watching movies with her fiancé, Chase.
Pop culture, literature and film play a major role in her counseling approach. She considers how the stories we tell each other reflect our lived experience. When we struggle to find the right words to describe how we're feeling we can always turn to celebrated works of art to make that connection for us and learn more about who we are and what it means to exist in such a world.
She utilizes Carl Roger's Person-Centered approach in counseling session which relies on a concept known as Unconditional Positive Regard— acceptance and support of a person regardless of what the person says or does. Emphasis in session is placed on creating a non-judgmental atmosphere that cultivates vulnerability and reflection.
Monet is a sex positive (I.E., having positive attitudes about sex and feeling comfortable with one's own sexual identity as well as other's identities), LGBTQIA and Social Justice allied clinician who believes in helping folks of all walks of life.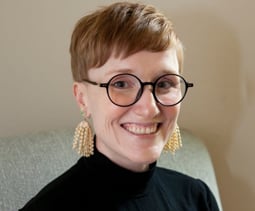 WHITNEY STOREY, MS, PhD
FIVE YEARS EXPERIENCE
Whitney (she/her) is a Licensed Professional Counselor, a Senior Instructor of Psychology, and a life-long learner with insatiable curiosity. Her exploration of the human experiences began in theatre and visual art. She then went on to earn a Master of Science in Psychology and an additional Master of Science in Counselor Education, fully diving into her desire to deeply understand herself and others.
It's this curiosity and appreciation for the human experience that drives her as a counselor. Humans are so interesting, and so being human gets really complicated. We tend to struggle in relating to other humans and in understanding ourselves. Therapy with Whitney centers around these two main ideas: humanity is universal and humans need curiosity. These two ideas guide how she facilitates therapy with teens, adults, and couples / relationships.
Whitney primarily works from a foundation of Acceptance and Commitment Therapy (ACT), which is less about decreasing things in your life (traditional therapy focuses on symptom reduction) and more about increasing your living. She has a decade of practice in working in the specialties of parenting and motherhood, anxiety, identity, and incarceration. She is most passionate about working with folks who struggle with fitting in and need support and guidance in making changes (going through life transitions, problems connecting to freinds and family, making changes, or having relationship struggles etc.).
Outside of work, Whitney is a mother of two, a partner to a musician husband, and a caretaker of so many plants and animals, like bizarre varieties of cacti and her growing collection of exotic pets, including jumping spiders and a pygmy short-tailed opossum.